EARLY YEARS PUPIL PREMIUM                                    
For each eligible child the school receives an extra 53 pence per hour and uses it to provide additional support to meet these children's needs. Last year (2015-16)  we used this funding to contribute towards:
1.Qualified Music Specialist to promote early communication
2.Regular outdoor visits to a local nature reserve – Shotover Country Park – to nurture children's inquisitiveness and creativity
Shotover
In our first trip to Shotover the children were very interested in all the prints and tracks they found in the mud. They identified footprints and enjoyed looking at the prints their own boots made. We found dog prints and several of the children knew what had made them. Amelie found horse hoof prints and told us that "they are horse shapes. They are cloppy and they've got circles." The children, however were baffled by the long bike tracks in the mud. The suggestions they came up for these were snakes and caterpillars!
In order to investigate this further I asked a child to ride his bike through some paint and then along the wall paper. We then looked carefully at the pattern the wheels left behind  and I reminded the children of the long tracks we had found up at Shotover. They quickly made the links and told me that bikes must have made them.
When we returned to Shotover this week several of the children remembered what we had learnt and pointed out bike tracks to me.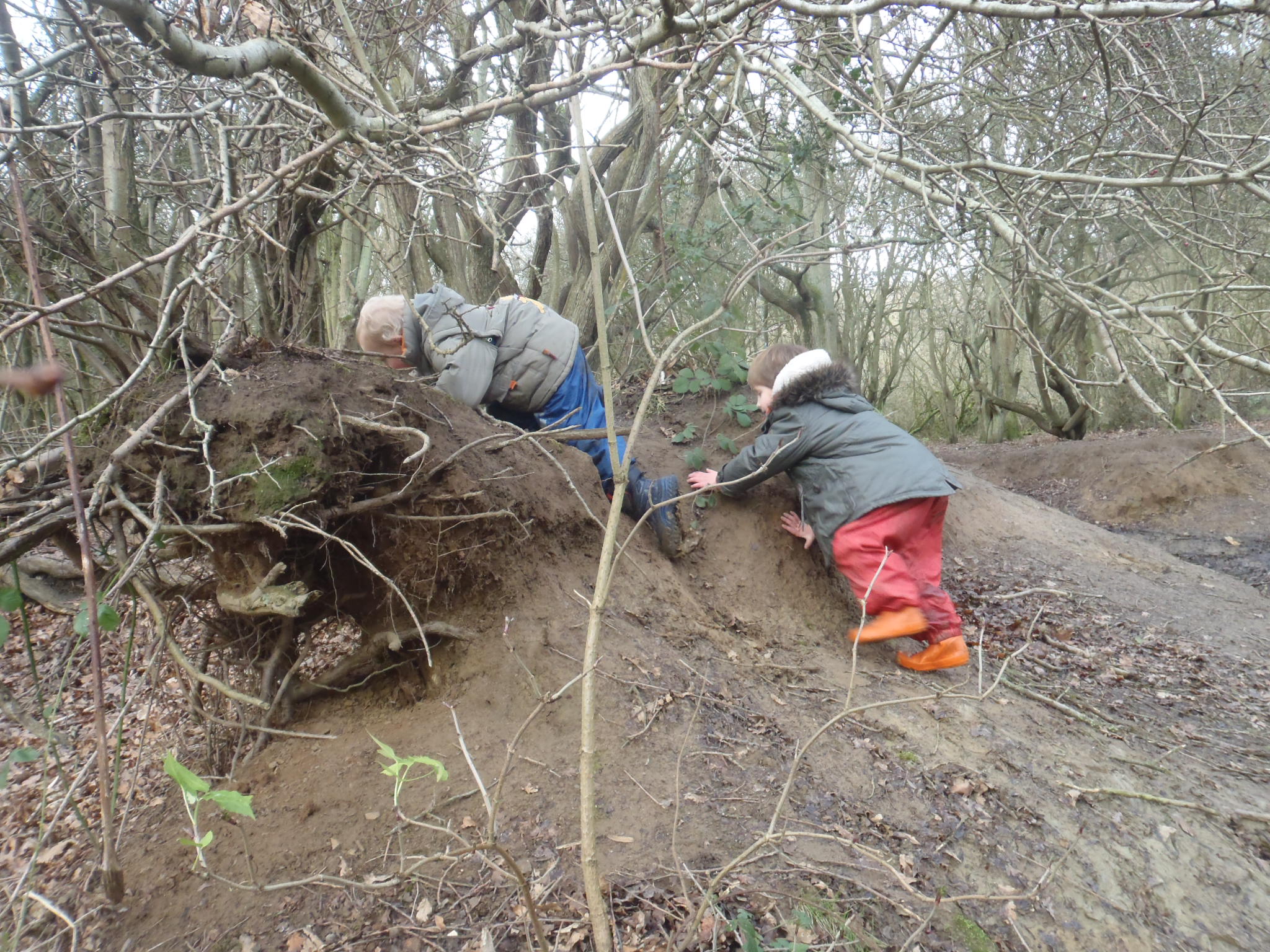 Parent Survey April 2016: Wheatley Nursery School has a lovely 'feel' to it when you walk through the door. There are always lots of interesting things for the children to do and the staff make learning fun! The recent visits to Shotover are great and the children love the sports and swimming sessions. We have found the nursery staff very professional, as well as welcoming and approachable.  
3.Hands Skills Group – Analysis and scrutiny of February 2016's progress data identified a small group of children whose progress in the Prime areas of learning  was being impacted by poor fine motor skills. In response a weekly Hand skills group was established focusing on developing these skills
Aim: To encourage pupils to do activities to develop their hand skills – e.g. Tweezers to pick things up, squeezing and stretching the dough, popping bubble wrap, painting with cotton buds, mark making on large sheets of paper, mark making with shaving foam, in gloop, sand. Cutting strips of paper with scissors cutting, the dough with scissors. Isolating fingers to represent numbers
Intention: for children to be able to hold a pencil near point between first two fingers and thumb and uses it with good control. Holding and using scissors correctly
4.Signing and Symbols, as part of our inclusive provision, which supports children with English as an Additional Language.
5.Family Links Nurturing programme promoting emotional literacy
Event:
  Family Links  Parenting Programme
Jointly facilitated by Maple Tree CC and Wheatley Nursery School
Aims:
The Nurturing Programme benefits both adults and children by:
Promoting emotional literacy and emotional health
Raising self-esteem
Developing communication and social skills
Teaching positive ways to resolve conflict
Providing effective strategies to encourage co-operative,
responsible behaviour and managing challenging behaviour in children
Offering insights into the influence of feelings on behaviour
Encouraging adults to take time to look after themselves
Encouraging the use of empathy as the cornerstone of family life
Feedback from Family Logs:
I am changing for the better and learning how to do things in a different way.
I am more reflective and considering the action I take more.  
By having shared family rules, we have a mutual understanding and respect and awareness of our actions.
I am taking more time with my children's feelings and needs.
The children seem to play together better.
I am more aware of positive parenting methods and making conscious effort to use them as much as possible.
My child is understanding boundaries better. Feeling increased encouragement through praise
I am thinking more before I act and being more aware of everyone's feelings
I am feeling more confident about my parenting
I enjoy using the strategies we have discussed
Outcomes achieved vs. stated aims
(with reference to priorities detailed on service specification, EYFS & SEF criteria etc)
Evidence from parents' feedback shows that parents were good at self reflection, praise, family rules, choices and consequences and felt confident with the tools they now had in their parenting tool box.